Follow us on Twitter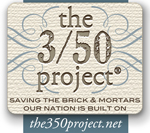 For many of the needles we carry we can special order larger quantities. Both John James and Bohin sell some types and sizes of needles in 1,000 pks. We purchase the Bohin Tapestry and Chenille bulk needles (as well as their #10 short beading needles) and package them ourselves in 10 or 25 needle packages. If you are doing an event and need a large needle purchase contact us to see what is available.

You'll find several lists on this page and each list has its own Add Button. So just scroll down to the botton of the needle type list and use that button to add the items you need to your shopping cart.