Follow us on Twitter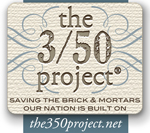 We carry a variety of books in soft and hard cover. Topics cover many aspects of needlework both contemporary and historical as well as reference books.

If you don't find a book you are after in our online database, ask us if we can special order it. Our inventory of books changes regularly, with new books coming into stock and many going out of print. Call us for most current information on what we have in stock.

As with many small businesses selling books, we have reduced the number we stock since we cannot compete with the pricing of Amazon. In some cases, our book vendors no longer order needlework titles for the same reason. If you love needlework books and want us or your local shop to continue carrying them, do buy locally when you can.

The Search for Books is useful if you want to find a book by its title, author or anything else. So you can search for "Ribbon" and it will return books with that as part of their description. If you want to search for more than one keyword type each keyword in and select whether it should look for ANY of those keywords or ALL of them. A search for Silk Ribbon will return different results depending upon whether you select the ANY or ALL keyword match and sometimes whether or not you enclose it in parentheses. With the search set to ANY you will get matches where either of the keywords exists - a lot more than you probably want. For most search you probably want to search for ALL keywords and that is set as the default.

You'll find books with stitches generally in either Counted-Thread or Canvaswork, although books that cross techniques may be in Reference. If you don't select a category you'll get the entire list.