Follow us on Twitter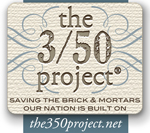 We carry a variety of books in soft and hard cover. Topics cover many aspects of needlework both contemporary and historical as well as reference books.

If you don't find a book you are after in our online database, ask us if we can special order it. Our inventory of books changes regularly, with new books coming into stock and many going out of print. Call us for most current information on what we have in stock.

As with many small businesses selling books, we have reduced the number we stock since we cannot compete with the pricing of Amazon. In some cases, our book vendors no longer order needlework titles for the same reason. If you love needlework books and want us or your local shop to continue carrying them, do buy locally when you can.

We have moved our books into our new online catalog system. We're still working out the best search method for this, so for now, you'll get the complete list of the books we typically have in stock.

Added to our online book catalog are several books by Yvette Stanton of Vetty Creations (AUS), including her Early-Style Hardanger book. And Alison Cole's two Masterclass books on Goldwork and Stumpwork.