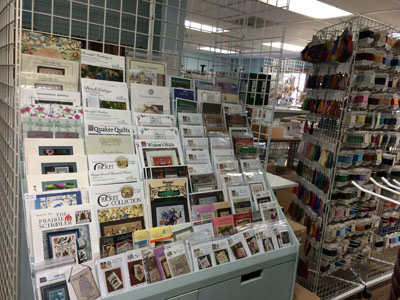 You might wonder, what exactly is "counted thread" vs. say, cross-stitch. Technically cross-stitch is a form of counted thread work, although generally it's listed as a separate type of work. Most commonly, counted thread refers to work such as counted-canvas, hardanger, pulled-thread, drawn-thread, blackwork, Assisi, pattern darning, reticello, Hedebo and similar types. You will find many of these types mixed with cross-stitch patterns on the market. They are an elegant addition to many designs and give the needleworker more techniques to experience. You can also find designs available with just these techniques if you want to concentrate on specific type.

Some of the designers we carry which have a counted-canvas theme are:
DebBee's Designs, From Nancy's Needle & Needle Delights Originals.

Designers that incorporate counted-thread work in their cross-stitch designs include The Drawn Thread, Just Nan, Shepherd's Bush and Victoria Sampler to name a few.

Places to see lots of available charts are the 3 distributors we order regularly from: Hoffman Distributing, Norden Crafts and Wichelt. They only sell to shops but are welcome to call or e-mail us your wish list.