We have a number of items that make excellent gifts for stitchers.
We also have tea and tea magazines for sale. Visit our Tea Page for tea related gift ideas.

A great way to carry or organize those projects are heavy plastic mesh zipper bags, with or without handles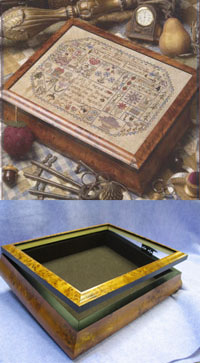 Dowry Box for Jeanette Douglas's My Stitching Treasures by Olde Colonial Designs
(Allow 4-6 weeks for delivery)
$200.00

We will confirm current price before ordering as they do change over time. This price is just for the dowry box.