In addition to our selections of other forms of needlework we carry supplies for embroidery, crewel work, wool embroidery and silk ribbon embroidery.

We are pleased to offer the fabulous embroidery books by Elisabetta Sforza from Italy to our customers. Elisbetta is a well known embroidery teacher in Europe and her books are excellent sources of designs and instruction for embroiderers of all levels. We also carry the linen she most often uses, Graziano 6262.

If you're looking for fabulous crewel kits, we suggest you order from The Crewel Work Company in England. We no longer stock their kits but we highly recommend them.

We stock several silk ribbon embroidery books as well as a selection of silk ribbon from Dinky Dyes and Gloriana Threads ).

If you're looking for wool for Crewel work we carry Appleton Crewel as well as Au Ver à Soie® Fine d'Aubusson and Gloriana Lorikeet.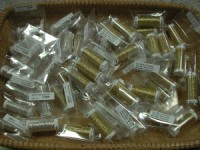 For Goldwork we carry a number of threads - Gilt Sylke Twist, Smooth Passing Threads #4 (Silk Core), Gold or Silver Wire, Pearl Purls and Silk Wrapped Purls. You'll find them in our online catalog.

If you want to create your own designs we have Water Erasable, Air Erasable, Iron-On Transfer Pencils and Sulky Iron-On Transfer pens for making up your own pattern. If you don't want to transfer your design to fabric you can also use Sulky Paper Solvy or Sulky Sticky Solvy. Print on the material, apply it to your fabric, stitch through it and when done, use water to dissolve it.

For fabric - we stock linen twill from Ulster Linen and Angus Weavers as well as a number of other embroidery fabrics (Schwalm, Ecclesiastical, etc.). You can also create your own embroidery on bags, clothing, towels, etc.

We carry Hardwicke Manor embroidery hoops as well as scroll frames and slate frames.

A good place to locate traditional stamped embroidery is Herrschners, which still carries one of the largest selections of this form of needlework. You can request a catalog from them on their web site.
We've had several requests for information on rug hooking kits and yarns and suggest you check out the Rug Hookers Network. They have information on guilds, teachers and suppliers.