Follow us on Twitter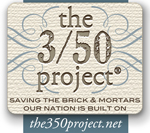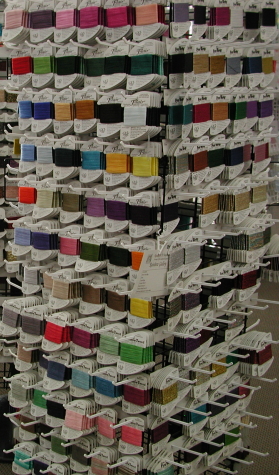 We carry a huge selection of threads on our 87' wall covered with thread - we call it our "wall of thread".If we don't have the thread you are looking for we might be able to special order it. Some threads require a minimum purchase as many thread companies require us to order a minimum number of each color.
We can also obtain hanks in many threads so that if you need a larger quantity of a dye lot you don't have worry about mixing and matching. Looking at and touching a hank of Florimell, Waterlilies, Soie d'Alger, Soie Cristale or Needlepoint Inc. Silk is an experience we know you'll enjoy.
We carry all the threads made by Au Ver à Soie® for the needlework market: Soie d' Alger, Soie 100/3, Soie Goblein, Soie Perlee, Soie Ovale, Soie de Paris, Soie Surfine, Fine Aubusson Wool & Silk Trame.
Our spooled threads include Trebizond, Bijoux, & Accentuate which are housed in acrylic cabinets so you can find these threads much easier.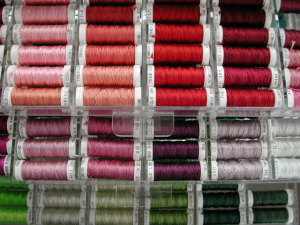 Below is a basic list of our threads. We routinely get new colors of the threads we carry so if you're looking for the latest color of a line, just contact us or check out the on-line thread catalog for up-to-date color listings. Given our inventory it's impossible to have every single thread or ribbon in stock all the time. These are the items we normally carry or can special order.

Purchasing Threads On-Line
We have an on-line thread catalog for most of the threads we carry and you can purchase them via this catalog. If a thread below (vs. the vendor name) is highlighted click on it to be taken to the catalog page for that thread. You can also search for threads using the box below. Useful for when you're not sure who makes it or the name of the thread, but you have a color name or number.

If you're looking for an old Needle Necessities color try searching for NN and the color number (e.g. NN 100 for floss or SpringII 301 for SpringII). We currently only have the mapping for the floss and SpringII colors. You can visit the ThreadworX website for a complete color listing.


Thread List
(H) Thread available in hanks
Threads/Ribbons by Type
Silk (100% silk)
Soy
The Pure Palette Soy Luster (100% soy)
Silk/Wool Blends
brown paper packages Silk 'n Ivory (50% wool/50% silk), Trio (50% wool/50% silk),

Stardust

(Silk 'n Ivory with metallic strand)

Caron Collection Impressions (50% wool/50% silk) solid & hand-dyed
Wool
Appleton Wool

The Gentle Art Simply Wool
Gloriana Lorikeet

Fleur de Paris

Bellalusso



Vineyard Merino
Rainbow Gallery Rainbow Persian (

Fl

eur de Paris

Anahera Wool on cards)

Cotton
Anchor® Floss

Caron Collection Wildflowers, Watercolours (pima cotton)
Classic Colorworks Overdyed floss, Overdyed Perle
DMC Floss, Perle Cotton #3, 5, 8, 12, Floche (*** This is made by

DMC

Exclusively for

Fleur de Paris

, our distributor in Los Angeles. If you hear rumors that DMC is no longer making it, don't be dismayed - it is, but only for FDP. So we can still get it easily

)

, Variations
The Gentle Art Sampler Threads
ThreadworX overdyed-floss
Weeks Dye Works Overdyed floss and overdyed Perle
Linen & Bamboo
Londonderry Linen Thread

(100% Linen)

Rainbow Gallery Rainbow Linen (100% Linen), Mandarin Floss (100% Bamboo)
Metallics
DMC Metallic floss, Metallic perle
Kreinik Blending Filament, Cable, Cord, Japan Threads, #4 Braid, #8 Braid, #12 Braid, #16 Braid, #32 Braid, 1/16 Ribbon and 1/8 Ribbon, HotWire

Madeira Lacquered Jewels/Black Core (Bijoux), SuperTwist (Accentuate), Estaz
Rainbow Gallery - wide variety of metallic threads.
Rayon, Nylon and other man-made fibers
Caron Collection Snow (100% synthetic fiber)
DMC Satin Floss

Kreinik

Easter Grass

Rainbow Gallery many of their threads

ThreadworX

Expressions

(matte cotton & rayon twist)

Real Metal Threads
Access Commodities Gilt Sylke Twist, Gilt Passing #4 & Silver Passing #4 and many other Goldwork threads

Ribbons

We carry or can order silk ribbon by Dinky Dyes, Gloriana, Planet Earth (Tonal) and The Thread Gatherer. We also stock several colors of YLI Ribbon Floss and can special any of the Ribbon Floss colors.

All are great ribbons to work with for embroidery, cross-stitch and needlepoint.


Gloriana ribbons come in 4mm, 7mm and 13mm (selected colors)
Dinky Dyes ribbons come in 4mm and 7mm
Planet Earth Tonal ribbons come in 4mm, 7mm, 10mm & 13mm
Thread Gatherer ribbons come in 4mm and 7mm