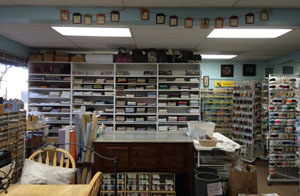 We carry an extensive assortment of fabrics in our well stocked fabric cabinets. While we might not have every count in every color in stock, we are happy to special order most fabric if we don't have what you need.

If you'd like to read our Hand-Dyed Fabrics Primer - Dyeing, Washing and general Fabric Content we have a special collection of newsletter articles combined into one article for your reading pleasure.

In most cases our fabric is not pre-cut and we sell fabric in the following cuts. While fabric widths vary by vendor and type of fabric, these are the most common examples.
| Fabric Cut | Dimensions | 42" width | 54" width | 72" width |
| --- | --- | --- | --- | --- |
| Stitcher's 1/8 | 18" x quarter the fabric width | 18" x 10.5" | 18" x 13.5" | 18" x 18" |
| Stitcher's 1/4 | 18" x half the fabric width | 18" x 21" | 18" x 27" | 18" x 36" |
| Stitcher's 1/2 | 36" x half the fabric width | 36" x 21" | 36" x 27" | 36" x 36" |
| Stitcher's yard | 72" x half the fabric width | 72" x 21" | 72" x 27" | 72" x 36" |
| Regular 1/2 yard | 18" x fabric width | 18" x 42" | 18" x 54" | 18" x 72" |
| Regular yard | 36" x fabric width | 36" x 42" | 36" x 54" | 36" x 72" |
Some fabrics come in odd widths so they will have different cuts than those listed above. Usually the online catalog will have the details, but you are always welcome to confirm the physical size of a cut with it when you order. All fabric can be edge-finished free of charge on our serger so you are able to start stitching right away!
For your convenience, we've put together an Industry Fabric List of common fabrics, their manufacturer, count and fiber content. It was updated in 2011, adding new fabrics and removing discontinued ones. If you're looking for the fiber content of an older fabric we have archived our 2002 Fabric List and 2004 Fabric List which contain some of the older fabrics. This is a reference document you're welcome to pass on to friends.

If you're not sure how to calculate your fabric requirements for a project you might want to print the Fabric Calculation Guide, which gives you the math formulas for doing this yourself. If you're not sure what you need you can always let us know the stitch count for your project and we can do the math.
The documents above are in Adobe Acrobat® (PDF) format and you can either view them on the screen, or print them. If you don't have the Adobe Acrobat reader installed on your system, click on the button below to download it from the Adobe web site (we recommend version 4.0 or higher).

Terminology

Aida and Aida Weaves (e.g. Tula) are woven so there are "blocks" in the fabric. With these fabrics you stitch over 1 block. Aida is generally made from cotton and the Aida Weaves from other fibers.

The real meaning of "evenweave" is a fabric where the warp and weft are the same count. So any 28 count fabric, whether it's linen, cotton or something else is an even-weave as long as it's 28 count in both directions. There are almost no uneven-weaves on the market these days, as they are no longer being produced. However, "evenweave" has generally come to mean fabrics like Lugana, Jobelan and others where the diameter of the fabric threads are consistent. In this case "even" is taken to mean "consistent".

Many of our embroidery linens (linen twill, ecclesiastical linen, Cambric, etc.) are not counted fabrics and are best used for techniques like embroidery, gold work, crewel work, shadow work, etc.

Linen & Linen blends
Many customers ask about the differences between the various types of linen on the market. Two of the most common linen manufacturers or distributors are Zweigart and Wichelt Imports (Permin). Zweigart linen has a soft hand and the fabric threads are plump, making the fabric fairly opaque. Wichelt (Permin) linen tends to be somewhat stiff and the fabric threads have more of a thick/thin quality making its appearance more sheer. The exception to this is Wichelt's Country French Linen and their hand-dyed linens which have a softer hand. The are some common colors between these two lines (e.g. White, Antique White, Cream/Ivory, Raw/Natural) although there are many colors that are only found in one or the other.
Studio Line (aka Northern Cross (Belgian linen)) is a slightly stiff linen with somewhat flat fabric threads and works fine for dimensional projects (it can be used as a substitute for Brussels linen which we can no longer obtain). Weeks Dye Works linen is hand-dyed Northern Cross for their 30 and 35 count.

Lakeside Linens, Picture This Plus, Fiber on A Whim, Fox & Rabbit, Mountain Aire and Weeks Dye Works are all hand-dyed or hand-painted fabrics. These dyers use linen from one of the linen producers to dye - they do not make their own linens.
Legacy linens have a soft hand with very plump fabric threads and are excellent choices for table linens. We carry Graziano linens and have 53/63 count, 45 count (Florence), 38 count (Ricamo), 30 count (Assisi) and 14 & 18 Linen Aida (100% linen). We also carry several types of Sotema linens from Italy. We have 30 & 37 counts sold as part of the Legacy Linen range.

If we are out of a fabric we can usually reorder it, although in some cases the vendor has discontinued the fabric so we might need to find you a substitute. Visit our online catalog Fabric page for information on ordering times for most fabrics.

Evenweaves

Most of the "evenweaves" on the market are made from cotton or some mix of cotton and another fiber. What distinguishes them from linen in particular is their fabric threads uniform in diameter. This is generally a by-product of them being made from cotton.
Jazlyn
&
Lugana
(
Zweigart
) are 52% Cotton/48% Rayon. Jobelan (
Wichelt
) is 51% Cotton/49% Rayon). Zweigart started producing a 40 count evenweave in 2016 called Verdal (which is softer than Lugana).
Embroidery Fabrics
We also carry a number of non-counted fabrics for surface embroidery. If you are in search of a good fabric for tablecloths we carry Legacy Linens Sesame Seed which comes usually 95-108" wide. Other embroidery fabrics include Kingston Linen, several Legacy Linens and linen twill by Ulster Linen & Angus Weavers.

Access Commodities

Legacy Linen

(20, 25, 30, 34 count)
Legacy Dower Linen (30 count and non-counted linen approximately 50 count)

Leg

acy Linen

53 count (Sycamore Seed Pod - 118in wide)


Brussels (30 count was used by C.A. Wells for dimensional projects. We have a few cuts of a hand-dyed version dyed for us by Lakeside Linens.). We no longer have any White or Optical White and are unable to obtain more. Studio Linen (aka Northern Cross) is a good substitute).
Lakeside Linens (hand-dyed linen in 28, 32, 36, 40, 46 & 55 count as well as Legacy linens (50, 53 & 52/64 count)

Studio Line (was called Northern Cross

Strathaven

Graziano

Florence (45 count)
Ricamo (38 count)
Assisi (30 count)

Linen Aida (14 & 18 count white)

Sotema (Legacy Linen)

Weeks Dye Works (hand-dyed linen)
Wichelt (Permin)

18, 28, 30, 32, 35 & 40 count


Zweigart We carry a wide range of Zweigart linens

Cork (18 count)
Dublin (25 count)
Cashel (28 count)
Belfast (32 count),
Edinborough (36 count)
Newcastle (40 count)
Bergen Linen (44/46 count)

Bristol

(45 count)

Kingston (55 count)
Quaker (28 count, 55% Linen/45% Cotton)

Aida & Aidaweave fabrics

Aida - 8, 11, 14, 16, 18, & 20 counts in numerous colors by Zweigart & Wichelt
Hardanger - 22 count by Zweigart & Wichelt

Herta (6 count) & Hertaette (8 count) by Zweigart
Jobelan Aida (hand-dyed 14 count) by Wichelt
Linen Aida by Graziano

Klostern (7 count) by Zweigart
Tula (10 count) by Zweigart
Evenweave fabrics (other than linen)
Davosa

(18 count) by

Zweigart




Floba

(25, 32 & 35 count) by

Zwegiart



Jobelan (25, 28 & 32 count - 51% Cotton/49% Rayon) by Wichelt

Linda

(27 count) by Zweigart
Lugana (20, 25, 28 & 32 count - 52% Cotton/48% Rayon) by Zweigart

Verdal

(40 count) by Zweigart

Embroidery fabrics

Linen Twill - by Ulster Linen
Jacobean Twill by Angus Weaves (Scotland)

Kingston - 50/55, 53/59 or 55/55 count by Zweigart
Linen Crepe - by Sotema

Legacy - Tailor's Chalk, Fichu (sub for Cambric), Picadill


Graziano

53/63 linen (their #6262 used by Elisabetta Sforzza)

Southern Belle or Painter's Palette Cotton - cotton backing for embroidery
Lakeside Linens - 55 count & 52/64 count
Weeks Dye Works Hand-dyed Wool

Wool Flannel

Congress cloth (24 count)
Interlock Canvas (Special Order)

Penelope Canvas (Special Order)

Mono canvas


10, 12, 13, 14, 16 & 18 count


Silk Gauze
Waste Canvas
Construction Fabrics

Interfacing


Skirtex (medium weight interfacing)
Pre-finished items
Hand towels, Linen handkerchiefs and a few other goodies that we bring in a few times a year. Many other items available by special order.
We have a limited selection of

Legacy Linen

- Linen Glass Towels in Blue and Red.