Needle Primer

The following articles were featured in 3 newsletters I wrote in 2012. We have collected them all into one for your reading pleasure. If you wish to reprint any part of this, please contact the shop for permission.



What Size Do I Use?
Recently I've had several conversations with customers about what size need to use for their projects. In some cases this came up because they were having problems with a thread getting fuzzy or shredding and a big part of that was not using the right size needle.
Needles really serve a dual purpose. First and foremost as a way to carry the thread. But the second purpose is just as important, especially when stitching on canvas. It's to open the fabric enough to allow passage of the thread without causing it undue stress. Canvas and some linens are very rough, so they act like sandpaper on thread. If you've ever stitched with a silk/wool blend and had it fuzz, chances are it was in part because you used too small a needle. The same is true for seeing threads like metallics and some silks, shred. Most counted-thread fabrics aren't as rough as canvas, but some of the stiffer linens with a lot of sizing can still be a bit rough on thread.
Here's my personal guideline for Tapestry needle sizing and the one we use at the shop:
#28 - Fabrics 36 count and above & Beading
#26 - Fabrics 28-32 count or Aida 16-22 count
#24 - Congress Cloth, Fabrics 22-28 count or Aida 14 count
#22 - Canvas 18 mesh, Aida 7-12 count, Fabrics 18-20 count
#20 - Canvas 14-16 mesh
#18 - Canvas 12-13 mesh
#16 - Canvas 10 mesh
If you find your thread is shredding even with the "right" size needle, use one size larger. So if you're working on 18 mesh canvas, use a #20 instead of a number #22. It will open the hole a bit more and allow for safer passage of your thread.
How to tell if you've got the right size needle and you don't know what it is? Put the needle into the fabric hole - if it falls through it's too small. If it's hard to pull through, it's too large. For the "Goldilocks - just right" fit the widest part of the eye should just push the threads in the fabric apart. In the photo at right (18 mesh canvas) a #24 is on the left, a #22 on the right. You can get away with the #24 as the eye will just barely move the canvas threads, but for most projects I prefer a #22 as it opens the holes more, without being too large. As with all things, experiment to see what works best for your project.

While most counted needlework uses Tapestry needles (blunt), embroidery and many other techniques require sharp needles. There is a pretty wide range of sharp needles but we'll just talk a bit about the ones most often used in needlework.

Chenille - just like a Tapestry needle but sharp (eye is elongated and bigger than the shaft)

Embroidery/Crewel Needles - oval eye only slightly larger than the shaft

Milliners/Straws - longer needles and the shaft is all one diameter

Beading - very thin for bead work

Curved - both Tapestry and Beading needles are available curved

If you're working on regular fabric (anything that doesn't already have holes) you'll need some type of sharp needle. What you pick is partly personal preference but also depends on the fabric and thread you are using.
Silk Ribbon Embroidery - generally use a Chenille as the wider eye helps protect the ribbon and it's easier to thread ribbon into an elongated eye. A related hint - cut your ribbon on the diagonal to thread your needle.


Embroidery - Embroidery or Crewel needles are one of the most commonly used needle for surface work and can accommodate crewel wool, floss or a number of other stranded threads.


Bullions & French Knots - Milliners are the key to success here, especially if you're like me and tend to wrap the thread pretty tightly around the needle. Since the eye and the shaft are the same diameter you don't hit the "eye bump" as you pull the needle through the wraps. If you've hated bullions and never used a Milliner, try it and you'll be amazed how much it helps.


Beading - while you can sometimes use a #28 tapestry needle for Mill Hill beads, most of the time you're better off with a beading needle. For adding beads to needlework I recommend a #10 beading needle. They are thin and the eye is very tiny, so you'll need a wire threader. These needles do bend quite a bit since they're so thin, but as long as you don't bend them too much they can handle it. They come in sizes #10, #12, #13 and #15 for very small beads. You can get them in a size 10/12 package so you've got one of each of the most useful sizes.


Goldwork - what you use varies by the thread you're couching with (or running through the metal). In the classes I've taken it's generally been either a small embroidery needle, a Milliner or a beading needle.

I occasionally use a curved needle when I need to reattach something like a bead and I no longer have access to the back of my work (as in it's framed already). They are also useful when doing finishing work to get into harder to reach places.
When using a thread that is on the thick size you might want to try a Chenille needle as long as it won't damage your fabric. When working on silk or satin, generally the smaller the needle the better, as the fabric is not forgiving of having holes made in it. It's a trade off between stressing the fabric or the thread and in most cases, the fabric wins. For fine work stick with an Embroidery/Crewel needle. Size the needle to the thread you're using, so a smaller needle for 1 strand of floss than for say, Perle Cotton #12.
The larger the number the smaller the needle, within that type. So a #24 Chenille needle is smaller than a #20. But a #20 Chenille needle is not smaller than #15 Beading needle. Sizing is only relative within a specific needle type.
If you find you can't run the needle under the threads on the back, just use a smaller needle. This happens either because you stitch really tight (which I'm guilty of) or you needed to use a larger needle for the thread. So I keep a variety of sizes of needles in my local stash (usually next to the couch) and re-thread when I need to run under the back to finish off a thread. I'll park a bunch of threads off to the side and do several at the same time if I'm changing colors a lot.
A great way to keep track of your needles and to help you figure out what you've got is
The Needle Index
from Valley Quail EGA. We stock them in the shop and they're a great addition to any needleworker's tool stash. Each page is a different needle type complete with scale images as well as a piece of wool felt to keep your needles in. You'll find The Needle Index, as well as our needle selection in our
online Needle catalog
.
Mary Corbet has written a number of articles on needles, including hand-made needles on her blog
Needle 'nThread
. If you've not read Mary's blog before, it's one to keep on your reading list for a wide variety of needlework topics.
Bohin - this is a relatively newcomer to the US market, but those of you in Europe or the Commonwealth countries have likely seen them around for a long time. Bohin is a French company manufacturing a wide range of needlework products from magnifiers to ceramic pencils. They are my favorite needle maker these days.

Previously I'd been using mostly the gold-plated John James needles but I find the finish on Bohin needles to be smoother than the other brands or types I've used. We purchase many of the sizes in bulk, making them more affordable if you like to buy in quantity. While they make a wide range of needles (including quilting and machine) we stock their Beading, Chenille, Embroidery, Milliners Assortment and Tapestry needles.
John James

- These are manufactured by Entaco, which is an English company (Entaco is an acronym for

English Needle and Tackle Company). In some form or other these needles have been in production since 1840. John James needles are probably the most common brand in needlework shops around the world. They have a wide range of needle types and are an excellent quality. We carry their Beading, Chenille, Embroidery, Tapestry, Gold Tapestry, Tapestry Petite, Curved and Pebble packs.
Tulip - this is a Japanese company which makes a pretty extensive line of needles. I became a fan in 2014 when I started using their beading needles for my beading work. The needles flex but don't permanently bend, which is great when you're doing bead weaving or fine bead work. We have started carrying their beading needles as well as their assortments of Embroidery and Milliners needles.

Why gold vs. platinum or nickel plating? For some stitchers their body chemistry eats through the nickel plating on the needles. When Kreinik was still manufacturing needles their plating was a combination of Platinum and other metals and they were very resistant to this. Alas, they no longer make needles. So gold or platinum plated needles have been the go-to platings for many who suffer from the problems with nickel plating sloughing off. As of 2014 John James is no longer making the Platinum needles so supplies have gotten very scarce. No one else manufacturers a Platinum Tapestry or Chenille needle that I am aware of. While Bohin uses nickel for the plating, they seem to be sturdier and more resistant to this. As with all things, your mileage will vary, but it might be worth trying if you haven't done so already.
There are many other needles out there - Hemming, Piecemaker, DMC, Anchor, Clover, Roxanne and Mary Arden to name a few. You'll find some brands more in quilting or fabric shops. Every shop has their favorites so feel free to ask the owner or staff at the store you frequent, why they like the ones they carry.
I rarely use a threader but when I do my go-to threader is one from Loran, which is made out of steel. It has a hook on each end, which hold the needle while you wrap the thread around the hook. The large end can accommodate larger tapestry needles (#22 and up) and the smaller end for things like #24-#28 tapestry needles. Due it being made from steel it's both indestructible and a magnet will hold it, both big wins in my book.

Muriel

threaders have two sizes of ends with appropriate holes. Beading threaders (we call them Tiny or Wire Threaders ) are the wire kind and most useful for beading and embroidery needles that have a small eye. The trick with them is the hold the point where the wire is clamped to the body as you pull them through the eye so you don't tear the wire out.
Loran Threader with

#22 Tapestry needle.

Loran Threader with

#28 Tapestry needle.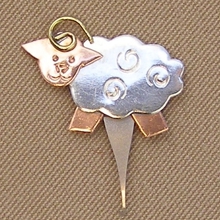 Puffin & Company
makes wonderful decorative needle threaders, including a new micro threader (new for 2015) that will go into a #10 beading needle. Their threaders include a magnet on the back so you'll never lose it.
Rainbow Gallery used to make their own threader that was a combination of the Muriel and Loran styles and out of a heavy metal piece like the Loran. Alas, they no longer make them. Clover, Dritz, Mill Hill and other firms also make threaders, but over the years I've found the 3 above fit the bill for most needlework use.

Hopefully this information helps you know more about needles and why choosing the right one is important. You're always welcome to ask us at the shop about what might be the best option for your project.
Happy Stitching,
Cathe