Follow us on Twitter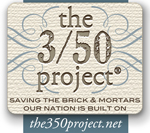 New Shopping Cart Note



Our shopping cart checkout process has moved to a new system with our provider and we're still trying to sort out some transitory issues.

a) If you add something to the cart and get an error 404, page not found, click on one of the View Cart buttons to see if it did get added.

b) If you attempted to add items and the cart shows up as empty, add them again and they should show up. We're finding that occasionally we're seeing empty carts on the first attempt to add to a cart and then it appears to be OK. If it is still empty, let us know what page you were trying to add items from.

c) We have also has reports of not being to add from some of the thread pages. For threads, you can also use the search box on the thread page below.

If you run into an error you can't work around, send us an e-mail with info on what you were trying to do, what page you were on, the browser you use and your OS. Even better, if you can also send us a screen snapshot or photo that is most helpfu. If you prefer, you can always call us to place your order over the phone or just e-mail us your list and we can handle your order that way. We appreciate your patience while we try to work out the kinks in a much more complicated system of interactions.




Login for Shopping Cart System

If you have created an account in our new checkout system, click the link above to be taken to the login page. This will allow you to change your payment info, address info, etc.

Click here to access your
Wish Lists once you are logged in.

If you want to update your payment information click on the button below to add an Update Info item to your cart then check out. It will show up as penny since you cannot provide payment details with a zero priced item (we obviously won't charge you the penny). It's the best way for us to get notified that you have new info.



We have an on-line catalog of many of the items we carry in our brick & mortar shop, but really only a fraction of them as it would impossible to list everything. You'll find our fabric, threads, embellishments, accessories and gift items in the on-line catalog. We don't plan to ever add the entire store inventory to it. We do not have a real-time inventory system. With over 130 threads alone it would simply take to much time to ring up a customer, whether they were in our shop or we are mailing an order. Think of how much fun it would be to stand behind a customer buying 120 colors of DMC floss and us having to scan every single skein and you get the idea.

If you wish to order something not currently in the on-line catalog you can use the form at the bottom of this page, use our Manual Order form, put that information in the "Special Instructions" when you checkout, or give us a call. We try to keep a good portion of these items in stock, although with the amount of product we carry it's impossible to have everything in stock all the time.

Prices in the online catalog are subject to change and we reserve the right to charge the new price so your order total may be different from the online receipt. We try to keep the site as up-to-date as we can but that's not always possible. Often when we re-order items prices have gone up and we don't know that in advance. If that is not acceptable to you, please note that in the Special Instructions or give us a call to confirm a specific price.

The shopping cart is secure (128bit SSL) and you can send us your credit card information securely over the Internet. If you've not used our on-line catalog before we suggest you read our Ordering Information page, which has details about using the cart, estimated shipping costs, etc.
Selecting one of the following items or categories will allow you to order from the on-line catalog. If you want the search the website for something like a thread number, use the Search feature on the left of this page. Several catalog items (fabric, books, embellishments and designers) will not show up in that search because they are in their on searchable databases. Click on the appropriate link to search those types of items.
If you're not sure what the stitcher in your life would like we offer Gift Cards in any amount. Please visit our Gift Cards page to purchase, add value to an existing card or register a Gift Card.


Type
Description
Accessories
Needle cases, laying tools, cutters and other tools.

Books
Books that we regularly stock or order are listed on these pages. If you are looking for something you don't see in these lists let us know and we'll see if we can order it.
Counted-Thread Designers
We have several counted-thread designers available through the on-line catalog (and many, many more in the shop). This page also features our Project pages, where we list all the items needed for several popular projects such as the Berlin Wool Work Sampler, several "mystery" projects, Shepherd's Fold and similar projects.

You can also check our distributors websites and let us know if there is something you want us to obtain.

Hoffman Distributing
Norden Crafts
Wichelt Imports (Mill Hill)

Embellishments
Mill Hill

Search our embellishments database for any of the items to the right. Useful if you're looking for a specific number or color.
Glass Seed Beads
Antique Seed Beads
Frosted Seed Beads
Petite Seed Beads
Buggle Beads
Pebble Beads
Size 6 & Size 8 Beads
Magnifica Beads
Treasures
Just Another Button Company
Polymer clay buttons in a wide variety of styles
Sundance Designs Beads
Size 11, 14, 14 Hex and 8
Fabric
Use our searchable fabric database to find just the right fabric for your next project.
Gift Items
You'll find a selection of gift and accessory items on our various Gift pages. Our

Needle In A Haystack

Exclusives pages feature lovely gift items exclusive to us. Our main Misc Gift page has Stitcher's Lotion, pins, nail files and a few silver items. Our Wood Accessories feature wood tools of various kinds. Our Storage page has mesh bags, carriers and more... We carry much more that what is listed here but inventory fluctuates a lot, so contact if you are looking for something specific.

Stretcher Bars, Hoops & Frames
Scroll & Slate Frames, Hoops & Q-Snaps, Stretcher Bars and tacks
Lamps & Magnifiers
We carry lamps and magnifiers from several top manufacturers including Stella Lighting & CraftLite.

Magazines
Magazines for Cross-Stitch, Embroidery, General Needlework, Needlepoint and even Tea!
Needles
Needles of all kinds
Scissors
We carry a good selection of scissors primarily from Dovo Soligen in Germany.

Stands
Floor and lap stands (and accessories)
Tea Items
We love tea and carry a great black tea along with a wonderful magazine called Tea Time.
Thread & Ribbon
Threads & Ribbons from the many vendors we carry.
Thread Color Cards
Color cards are available for a few of the threads we carry. Most hand-dyed threads do not produce color cards for sale.
Needlepoint Designers